AliDropship is a WordPress plugin developed by Yaroslav Nevsky to help streamline the dropshipping process.
This plugin allows dropship store owners to import thousands of products on AliExpress and manage their inventory as well as orders effectively, with little or no stress.
One thing about AliDropship is that it is beginning to gain more popularity in the eCommerce and Dropshipping world, which is why I have decided to review it as to whether it is worth the hype or not.
In this honest review, I will talk about the two major types of AliDropship plugin, who to use it, the best features, pros and cons, supported addons, and among other things.
Before delving into the review proper, it is intrinsic to note that there is two major version release Aliexpress Plugin Solution.
If you are also hearing about the dropshipping business model for the first time I recommend you read this article below
Dropshipping—What Is it, How to Get Started, Pros & Cons
Alidropship Releases
AliDropship comes in two versions, which includes the AliDropship  Wordpress Default Plugin & AliDropship Woo Plugin, both of which are WordPress CMS-based.
The two plugins share certain features but also differs in some key areas.
Starting with the similarities:
The two plugins are fully automated and can be used to easily Import products (and reviews) directly from AliExpress, Process orders, update product information, among other functions.
On the other hand, the major difference between AliDropship Default Plugin & AliDropship Woo Plugin is that the former is loaded with beautiful and carefully designed built-in themes you can pick from to create your own online store without any additional development or installation needed, making it a perfect choice for newbies in dropshipping business. This plugin is compatible with only the built-in themes and supports WooCommerce themes.
The latter, AliDropship Woo Plugin is ideal for people with prior experience of WordPress and WooCommerce as it comes with only the necessary features of performing the core dropshipping functions.
It doesn't come preloaded with built-in-themes and can only work with themes produced by WooCommerce.
Who is Alidropship for?
You may want to consider using the default version of AliDropship for the following reasons:
You intend creating a new dropshipping store and have no preference for WooCommerce.
You need an all-in-one platform that has the essential functionalities to run a successful dropship store without installing an additional plugin.
You have no experience with WordPress or WooCommerce.
You are new into eCommerce sphere and you don't have a solid previous experience in the field.
Who is Alidropship Woo for?
If you intend using alidropship woo you need to have  had prior knowledge of WordPress and woo-commerce
or
You want to have extra customization of the look and feel of your website.
Learn more about the two variation of  Alidropship
Alidropship Vs Alidropship Woo — Meet The Clear Difference!
How does Alidropship work?
Immediately you install and activate the plugin on your WordPress website, you are going to be able to browse and pick the products you want from AliExpress.
Once that is successfully done, the selected products will automatically be forwarded to your shop, including the product details – such as the product description, title, photos, prices, etc.
Features of Alidropship Plugin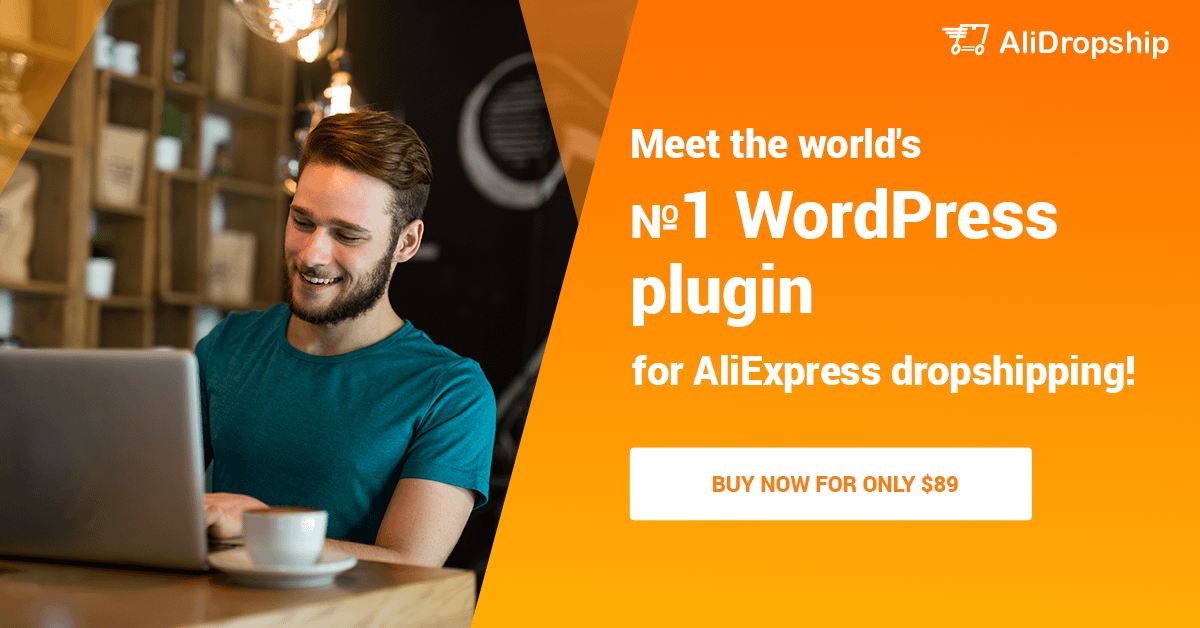 AliDropship is loaded with myriads of features, some of which are highlighted below:
#1. Choose customizable, mobile-friendly themes
AliDropship features a few carefully designed, built-in themes, all of which you can choose from to build your own online store – without having to mess with any line of codes.
Although they are somewhat limited, it might interest you to know that these themes are easily customizable, mobile-friendly and have a professional, stylish design.
Once you've successfully selected a theme, you can then proceed to customize it from your admin area. You are allowed to create new menus, change template colours, modify the logo, link up the social media, among other things.
#2. Multiple Payment Gateways
We are in the digital age, where virtually everyone wants to transact online with the barest minimum amount of effort.
The plain truth is that the quality of your purchasing process determines to a large extent whether your potential buyers will ever patronize you or not.
This is why you need a solid, frictionless purchasing process and multiple payment platforms to make the purchase easier for your customers.
If you truly want to run a successful online store, it is a must you have a solid, frictionless purchasing process
On the plus side, AliDropship plugin supports a wide number of payment gateways your customers can choose from, including Paypal, 2Checkout, PayU and Stripe.
To configure the payment gateway for your website, just navigate to the payment tab on your AliDropship Plugin and then select either Cash on delivery (COD), PayPal or any other option that best suits your needs.
#3. All-Inclusive Web Store
AliDropship plugin is an all-in-one solution you can rely on as far as E-commerce and Dropshipping are concerned.
This is majorly because the tool comes with a full functioning webstore with already imported products you can start selling almost immediately you launch your own store.
That's not all; this versatile solution is also packed with myriads of marketing and promotional tools which you can leverage on to boost your patronage levels and customer base.
This includes shopping cart for a seamless purchase procedure, emails for abandoned carts recovery, product review from verified buyers, discount coupons, to name but a few.
#4. Fully Automated with AliExpress
The importance of automated tools in drop shipping can never be overemphasized.
Fortunately, AliDropship is fully automated and makes dropshipping much easier as it helps automate the most challenging part of the business, ranging from Placement of an order on AliExpress, Tracking of Order, Pricing, Social Media promotion, Importation of goods, among others.
With these powerful tools, you are going to be able to save yourself the time and stress of searching products all day on Aliexpress, editing your products manually, tracking your order, or other demanding activities.
Additionally, it might interest you to know that Alidropship also features an all-in-one dashboard where you can easily see a detailed update about your sales, statistics, activities, to name but a few.
These and more are why AliDropship is often rated alongside giant platforms in the dropshipping scene, such as Oberlo and Dropified.
#5. Custom Dropshipping Store Creation Service
Yes, AliDropship makes it pretty easier to create your own store manually, but the plain truth is that building it yourself could take a longer period of time.
If you are too busy at the moment and you intend to have your store up and running, you can easily hire the service of AliDropship team to build your custom store for you for some amounts of money.
Part of the tasks they'll help you handle includes but not limited to:
Selection of a trendy in-demand niche
Selecting and purchasing a domain name in respect to your niche
Website logo
Mobile optimization
Google Analytics installation
Installing payment gateways
Search Engine Optimization
Social media accounts creation, etc.
#6. Built-in image editor
AliDropship has a built-in image editor which Lets you edit different product images from AliExpress before you import them into your personal store.
This image editor also lets you remove company logos before importing, which could help boost your online brand.
#7. Cart Abandonment
There are a lot of reasons why your visitors may abandon their cart at the checkout.
Sending regular, targeted mails could be a very effective method to get back those users who didn't complete their purchase, probably due to one reason or the other.
On the plus side, the Abandoned Cart feature that comes with AliDropship allows you to send automated emails to such visitors, with the aim to regain their attention and compel them to come back and complete their unfinished transaction.
You don't need to worry too much as there are more than enough built-in email themes you can choose from, and you are also allowed to set the time you want the messages to be sent, change the current theme, modify the letters, and all sorts.
Once you enable this feature, all the customers who abandoned their carts will be notified, and if they find it compelling enough, you might probably win them back.
#8. Currency Conversions
The eCommerce and the dropshipping sphere is among the industries with heterogeneous customers, and one of the ways to maximize your profit is by charging your customers in their local currencies.
Thankfully, The plugin comes with a built-in currency switcher that lets you display different prices to different users, based on their IP locations.
The plugin also allows you to add more currency options so that your potential customers will have more than enough currencies to choose from on their personal dashboard.
 #9. Built-in marketing feature to create coupons
Discount is one of the most effective marketing tools for encouraging people to patronize the products listed in your online store.
It might interest you to know that AliDropship allows you to offer periodic discounts to your customers. All you need do is to navigate to the "Discounts" tab on your Alidropship dashboard and start a new campaign.
Another beautiful thing is that you can specify the exact percentage to be reduced on each discounted product, the highest number of times the coupon can be redeemed, the exact form of discount, discount duration/period, among other settings.
#10. Built-in marketing tool to grow email lists
The mail list is among the most targeted and effective ways to acquire new customers, generate a regular visit to your online store, increase click-through rate, increase your patronage levels, among other benefits.
On the plus side, AliDropship helps to garner the email address for those who drop their email addresses on your store without purchasing any of your products.
Once you activate the email services, you are then granted access to send notifications to your customers anytime they place an order on your store or change their order status.
In addition to that, the plugin also allows you to add an opt-in form to your online store so that you can collect your website users' emails and give your newsletter campaign a significant boost.
Some of the top email services you can register with include SendGrid, SendinBlue, Mailgun, Pepipost, Sparkpost, Mandrill, to name but a few.
#11. Fully Seo Optimized
Search Engine Optimization is key to running a successful online store.
With AliDropship plugin, you have nothing to fear about as far as SEO is concerned.
This is because the plugin comes with some SEO tools that let you optimize each product on your online store at large.
Part of the features includes Search Engine metadata which lets you add optimized titles, descriptions and images to each of your products so that they can rank higher on the search engine.
Again, the sitemap feature that comes with this plugin helps to inform search engines whenever you add new content to your store or modify the existing ones.
Other unique feature of AliDropship
Optimized online store for mobile users
All-in-one dashboard to keep track of your sales, orders, stats, and relevant activities
Promo video marketing
Branded social media pages
Integrated Google Analytics
Pros of Alidropship Plugin
What I like about this plugin
You Retain 100% Ownership of Your Store
No Ongoing or Recurring Monthly Software Fees
Unlimited products
High-profit scalability
Lifelong support and free updates
Newbie friendly
Cons Of Alidropship Plugin
You have to pay for Hosting separately
The plugin only works with a limited number of WordPress themes
The available themes are extremely low.
They lack design flexibility
No trial
Some features are not free
Customer support could be better
Alidropship Addons
Want to further get the best of this Plugin? there are some powerful add-ons you can choose from, some of which include the following:
#1. FB Business
The Facebook Business add-on lets you harmonise your personal online store & FB Product Catalog.
Some of the benefits of this addon is that it allows you to display targeted, relevant products to your website users on their Facebook newsfeed and Instagram timeline.
As far as the ads are well-targeted [based on the items which they browsed], there is a high tendency that your visitors could eventually come back to your site and finally make a purchase.
#2. Previous Sales Pop-Up
This addon helps to encourage potentials purchase products bought by others in your online store, making your website appear engaging and trustworthy.
If well utilized, you can easily boost your store's trust factor, and even increase your product reach levels in no time.
 #3. Countdown Timer
The countdown timer is a special plugin for running time-based promos on your online store so as to create the fear of missing out and stimulate sales.
This plugin is a must-have for all, especially when you feel like harnessing your profits or get certain products sold faster.
Alidropship Alternatives
Some alternatives to AliDropship plugin include:
WooDropship
DropshipMe
Shopify
Wrap up
The alidropship plugin is a powerful solution to automate your dropship business, this alidropship plugin review gives you insight on what to expect if you purchase the alidropship plugin. After a successful purchase of the alidropship plugin, you would be updated via newsletter on how you can optimize your dropship store and make maximum profits from sales.
Please follow and like us: