Dropshipping is a very popular business model that allows entrepreneurs to sell products on their online store without keeping physical stock or handling the items.
Rather, the stocking, packing, shipping and other related processes are solely handled by a dropship supplier or vendor.
Part of the benefits of dropshipping includes its high flexibility and utmost convenience.
With that said,
Are you also willing to delve into dropshipping sooner or later?
Would you like to know more about this business model?
Don't worry, this article contains everything you need to know about dropshipping, ranging from its meaning, pros, cons, how it works, how to get started, among other crucial topics.
What Is Dropshipping?
Dropshipping is a contemporary business model which allows you to sell physical products on the internet without maintaining inventory, setting up a warehouse, or shipping your products to the end customers yourself.
All you need do is to partner with a dropship supplier who will then handle your entire product fulfilment on your behalf, ranging from stocking to packaging, handling, and shipping.
Dropshipping provides you with the least expensive way to get started in eCommerce.
How Does Dropshipping work?
In simpler terms, this is how dropshipping works:
You will find a dropship vendor and supplier that offer the products you intend selling to your target market
Create an eCommerce store, website, auction or blog and fill in the necessary information [description, features and images] of each product on the website
Promote your store on social media and other leading media platforms to attract potential buyers
Get customers to place an order for a product on your online store
Send the order and customer details to your chosen dropship supplier
After that, your dropship vendor will then package and ship the goods ordered directly to your customer in your name.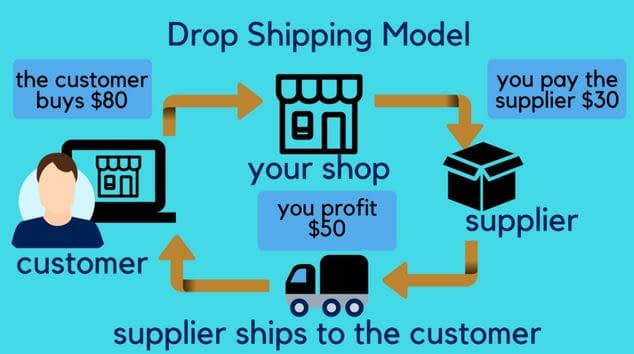 Note: You'll be required to pay your supplier only when you have received payment for the products ordered by your customers.
Having illustrated how dropshipping works, let's dive into the merits and demerits of this business model.
Pros of Dropshipping
Here are a few reasons why you may want to consider dropshipping:
Little start-up cost
This is the major strong point of dropshipping – you can set up your eCommerce store without spending huge amount of money in inventory upfront, storage and even shipping.
Unlike many other business models that require a substantial capital base, you can start your dropshipping business with $100 or #30,000.
The major things you will spend on are Domain Name, eCommerce Platform [such as Shopify], Automation App, Themes, Hosting, SSL certificate, and a few others.
Again, since dropshipping requires no upfront inventory cost, no warehouse costs and very little overhead, it simply means you can easily start sourcing products and launch a successful dropshipping business without spending a fortune.
Easy to setup
Running a dropshipping business is much easier as it doesn't take your entire time to set up.
All you need to do is to find the right dropship vendor, set up your online store and start selling your products in exchange for profit.
That's all!
Additionally, it will please you to know that your chosen supplier or vendor will be the one to handle the major processes, such as stocking, packaging, shipping, tracking, etc. – all of which helps to save more time and resources.
Low overhead
Once you have chosen to venture into dropshipping, you need not worry about exorbitant overhead costs that could trim down your profit levels.
This is because you don't have to purchase any physical inventory, rent or buy a warehouse/office space, spend on electricity or phone bills, pay for stationery, and the likes.
The only costs to worry about are the ones associated with managing your online store, such as domain name, hosting, apps, etc. – all of which are extremely low.
Flexible location
This is yet another advantage of dropshipping business over many other business models.
You don't necessarily have to rent or buy an office space.
It is a business you can run from almost anywhere with an internet connection.
Whether you are inside your room, at the beach, in a library or on a travel – you're good to go as long as you are with an internet-enabled device.
More importantly, you don't need to hire any employees at all to run your business, which helps to further reduce your inventory/overhead and allows you to focus more on the growth of your business.
Minimal Risk
Dropshipping is a low-risk business model.
This is because you invest only little amount of money upfront, meaning that you have little or nothing to panic about in case things go wrong.
What more?
Again, many traditional business models – such as Warehouses and storefronts – often require big investments in physical property, which can get damaged by a disaster, poor weather, vandalism and other related factors.
In situations like this, such businesses tend to lose a substantial amount of money and that may even lead to the permanent winding up of the company if the loss is so immense.
On the plus side, dropshipping requires no physical properties not to even talk of losing them to any of the aforementioned factors.
Access to a Wider Selection of Products
As far as dropshipping is concerned, you need not to buy your products in advance, which allow you to showcase myriads of trending products to your customers on your online store – at no additional cost!
Cons Of Dropshipping
Dropshipping, just like any other business model comes with certain shortcomings.
Here are a few drawbacks to consider before making the jump into dropshipping business:
Lower margins
Low margins are among the biggest drawbacks of dropshipping.
Since the business model is very easy to start and requires little overhead costs, a number of people keep delving into it day in day out, and thus increasing the competition levels on the marketplace.
Once there is intense competition, many Dropshippers often resort to selling their products at rock-bottom prices in an attempt to grow revenue, which in turn is lowering the profitability levels.
The most painful part is that customers are most concerned with price, meaning that you may be even be competing with sellers with low-quality websites and poor customer service – as far as you offer similar prices.
Another thing is that your supplier or vendor may charge higher prices for the products you dropship – depending on your niche and other related factors – and this may further reduce your profit margins.
Managing the inventory can be tricky
If you handle your stocking and warehouse yourself, it is pretty easy to figure out the actual products that are in and out of stock.
Unfortunately, in dropshipping, you have to source from multiple warehouses, which make it more difficult and nearly impossible to keep track of the stock of products you are selling.
In order to mitigate such occurrences, you may need to opt for some apps that let you sync with suppliers and provide you with real-time information regarding how much inventory your supplier has.
Supplier errors may occur
Although your dropship distributor can help handle a number of things, when it comes to your customer base, you will be the one to be responsible for it.
You must be able to answer all the questions your buyers ask concerning certain products.
You must be ready to give reasonable answers to them when they experience any difficulty in getting the goods they ordered for.
Another thing is that when you source from multiple suppliers, and a customer order 3 or more products from your vendors, he/she will eventually end up receiving the items at varying times, which does not speak well about your business.
Again, to avoid staking the reputation of your online store or damaging your business's reputation, it is imperative you avoid partnering with mediocre and low-quality suppliers as they are typically associated with missing products, delayed shipments, low-quality packing, and other things that can frustrate your customers.
Limited customization and branding
This is yet another big drawback of dropshipping.
You don't have absolute control over the design and branding aspect of the product you are selling.
The items are usually designed and branded by your chosen vendor, meaning that you can make only little or no changes/additions to the product itself.
How To Start Dropshipping
Below is a step-by-step guide to set up your own dropshipping biz:
Select a Niche
This is one of the most important aspects of your dropshipping business.
If you truly want to have a successful dropshipping business then it is imperative you find the right products to sell.
However, before you eventually choose a particular product range, it is much more important you choose a niche that you are genuinely interested in.
The reason is that if you choose a niche you are less interested in or passionate about you will easily be discouraged when the going gets tough, and this may lead to absolute waste of time and resources.
Here are some ideal products to consider when selecting a niche for your dropshipping business:
Products that are inexpensive to ship to your customers. This is because most customers tend to purchase products with lower shipping costs, compared to those with higher costs.
Products with high demand. When you choose a product that people rarely need or search for, you may end up not getting any sales at all, which could frustrate all your efforts. Fortunately, there are lots of ways to discover the demand level of certain products. To start with, you can make use of online tools like Product Mafia or Google Trends for detailed analysis regarding the proposed products. Another way to know if people are actually buying certain products is by checking their average sales volume on big online stores like eBay, Amazon, and AliExpress. The larger the volume the better.
Products that aren't available on the local market. These are products that your customers can rarely find down on their street. Such products tend to be more attractive and patronized by potential customers.
Products that are timeless. Choose products that cannot become obsolete within a short period of time.
Consumable products. This includes makeup, cleansers, food products, and the likes. They are desirable and typically results in repeated patronage.
Lightweight products. Products with lightweight often attract lower shipping costs and boost profit margin.
Perform competition research.
Just like any other business models, there are a number of online stores that you will compete with on the marketplace.
Knowing the competition is pivotal to beating the competition.
If you venture into a niche where there are too many sellers in that space, it may be a great problem for your business.
Fortunately, there are winning tactics you can try out to scope out the competition.
To start with, you can make use of powerful online tools like SEMrush, which allows you to track the ranking and domain authority of those you are competing with.
By so doing, you will be able to figure out their real traffic source, target keywords, and other key metrics.
In addition to analyzing completion with online tools, another way to scope out the competition is by ordering products from your competition.
This will help you discover their weaknesses and flaws, for a better and informed decision making.
Secure a supplier
When you partner with the wrong supplier such decision will definitely ruin your business, showing why you must be very careful before choosing one.
Here are a few attributes you should assess when selecting your suppliers:
Communication abilities – how fast does the potential supplier respond to clients, and to what extent do you understand each other? If you're not so sure about this, it is advisable you move on and consider another one.
How Fast Do they Ship – Partnering with a supplier with slow shipping rate can frustrate your dropshipping experience; therefore, go for only the one that offers faster shipping duration, at reduced price.
How The Order Is Packed – The importance of packaging can never be overemphasized as it can determine how often your potential customers will patronize you. If you partner with a vendor that packs its products in a crappy box or rough nylon, it will ruin your business faster.
The Quality Of Customer Service – How often do they respond to clients? Do they offer a refund for defective products? Do they provide real-time information about each product? These and more are basic questions you need to ask before partnering with any vendor.
Discounts and Bonuses – Do they offer lower prices when you are purchasing products in bulk? If yes, how often and when is it applicable?
How often does pricing change? – Dropshipping suppliers or vendors may change their pricing structure due to one reason or the other. Therefore, it is important you ascertain how such changes will be communicated so that it will not come to you as a surprise.
Using the aforementioned factors, you should be able to choose a reliable vendor for your dropshipping business.
In addition to that, you can also learn from people who are already into the business for more guidance on how to select the right dropship supplier.
Build your own eCommerce website
Running a dropshipping business requires setting up your own dropshipping website.
Fortunately, there are lots of simple eCommerce platform you can start with, including the popular tools like Shopify and WooCommerce.
Regardless of the one you opt for among the aforementioned platforms, it will please you to know that you need no technical background or extreme coding knowledge to get your online store up and running.
For clarity sake
Shopify is a fully automated shopping cart platform for handling dropshipping activities.
This platform is beginner-friendly such that you can start taking orders immediately you sign up and configure your online store.
The main downside to Shopify is that it is more expensive than other dropshipping platforms.
WooCommerce, on the opposite side, is a popular free WordPress plugin that helps turn your WordPress website into a fully functional online store.
Being an open-source CMS, WooCommerce lets you customize your online store as many times as you can.
It also comes with specially-designed and SEO-optimized themes to help give your store a huge boost on the search engines for increased sales and profit margin.
The main drawback of WooCommerce is that the platform doesn't provide phone support, except for tickets which may take them a few minutes to respond.
Another demerit is that you may have to manually set up and host your website or purchase third-party plugins like AliDropship, WooDropship, Spocket Dropshipping, Dropified, YouDroop, WooPocket, etc. if you don't want to set it up by yourself.
Create a customer acquisition plan.
It is good to have a great product list and premium-looking website, but if you don't have customers willing to buy, you don't have a successful business yet.
On the plus side, there are myriads of ways you can attract potential customers to your new online store.
According to research, Facebook ads is one of the most effective ways to get your business known in today's world. Therefore, you can start a Facebook ad campaign for your online store.
Be sure to use eye-catchy images and attention-grabbing words to increase conversion rate.
You can read more about FB Ads for better results.
In addition to Facebook adverts, you can also attract potential customers to your store by optimizing your contents for search engines, sending automated email sequences with special discounts and offers to your email subscribers, among other high-converting marketing strategies.
Wrap Up
Dropshipping is very easy to start as it requires just little capital, lower overheads, and can be run from almost anywhere in the world.
However, it is equally important to let you know that dropshipping is not a get-rich-quick scheme, especially when considering certain drawbacks and obstacles that come with it.
That said, if you delve into it the right way, learn widely and follow the expert tips we shared earlier on, you can still build a successful business and earn something substantial from dropshipping.
Please follow and like us: